To reach our Valley Tool Parts Department just call 800-426-5615 and ask for "Parts". You may also email our staff of parts professionals at parts@valleytoolmfg.com, and they will process your order and get you back to work. Our parts department is staffed by dedicated professionals to ensure that you get your parts on time, every time.
Hours:
Mon-Thu | 7am – 4pm
Fri | 7am – Noon
The equipment manufactured here at Valley Tool is built to last, and we're committed to helping you keep your machine in excellent working order. When the time comes to replace your knives, D-rings, bushings, idler pulleys, or belts we have the original OEM parts that will keep your equipment running in the toughest conditions.
When searching for the right parts for your Vrisimo, BrushHound, or RockHound equipment you can rely on Valley Tool to have the parts you need.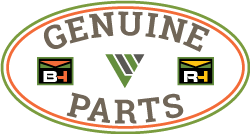 Need a Part Number?
Check the list below, select your product, then download the PDF Owner's Manual for your products. These documents will contain Parts Lists and Schematics.
Whether you're picking up parts or dropping off your equipment for repair, here is where you'll find us:
2507 Tully Rd., Hughson, CA 95326
Parts and Service entrance is around the corner on Whitmore Avenue near the Hughson Farm Supply store.